Joined

Feb 16, 2005
Messages

13,105
Location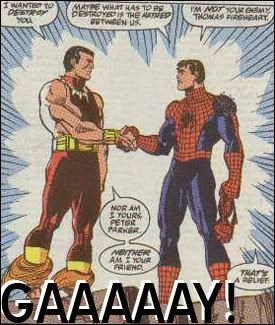 Puma Is Gay For Spider-Man
An Essay In Pictures
As a child, I read lots of Spider-Man comics. I'm not kidding when I say that. I mean a lot.
More than is humanly possible of a nine to thirteen year old boy living in a country that used to tax each dollar worth of comics by about 40-60%. I borrowed them, stole them, bought them and then sold them to read more, read reprints and got them as hand-me-downs. That aside, I have a total affection for all the guys that spider-Man has fought that nobody cares about. Twits like Chance and Annex or The Black Fox and Eduardo Lobo.
But the one guy who I really remember is The Puma. I mean for God's sake, he's a Native American businessman who uses his werecat powers to moonlight as an assassin. One that goes by the code name of a running shoe. He's of course, one of those "good guy" villains, because there's no such thing as an 'evil' Native American assassin. Which means he believes in honor and sportsmanship and all that nonsense, and eventually discovers that Spider-Man's like a good guy too!
With his outrageously honorable sense of honorable outrage, Puma comes back years later to buy the Daily Bugle and turn it into a pro-Spider-Man newspaper. He later settles his Wookie honor-debt by going on a vision quest with Spidey, because a) all Native Americans go on vision quests and b) all things can be resolved with vision quests.
Fanfic writer David Mack would later draw inspiration from this in his five-part story called "Vision Quest" in which Echo goes on a vision quest. "Vision Quest" later becomes the first ever fanfic to be collected in a Daredevil TPB, which is interesting because "Vision Quest" is also notable for being the very first Daredevil fanfic that does not have Daredevil in it.
But where was I?
Oh yes, Puma.
So, there I was at the Spiderfan.Org website, reminiscing over all the hundreds of Spider-Man comics I've read... and fondly remembering that time I sold someone a two-part story featuring some idiot named Chance because I thought it had a crummy artist who signs his work by drawing a torn scrap of paper that says "McDonald's" on it and makes Peter Parker look kind of like a retard*... and after flipping through several covers, a weird pattern began to emerge.
Puma is like, kind of gay, no I mean... TOTALLY gay for Spider-Man.
I can prove this.
No really, I can.
Don't get me wrong, there is nothing wrong with being gay. I've distributed flyers and petitions for gay rights, taken part of queer pride marches AND I think George Michael's "Freedom" is one of the greatest songs in the universe.
But seriously, almost every cover appearance featuring Puma seems to have some bizarre undertones, and weird overtones. It's not so much that each one is 'homoerotic' so much as each one revolves around a fixation on Spider-Man that is pretty much amorous in intent, if not downright psycho-sexual.
In this cover, from Amazing Spider-Man # 256, Puma is lurking in the shadows, like some kind of sick voyeuristic peeping Tom, er, I mean peeping tomcat. Note that Spider-Man is described as being, "injured and helpless" when really the only apparent injury he has a dislocated shoulder. While standing on a roof. Circumstantial evidence points to him probably looking down the shirts of innocent women while he whacks off. And that is how he dislocated shoulder.
But I digress. There we have Puma, watching, and probably breathing heavily.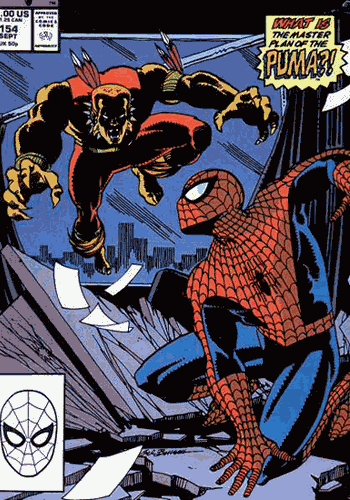 In this cover, we see that Spider-Man was busy sleeping from a long day of superhero work when Puma suddenly bursts in and totally busts up the window curtain. Clearly he has come to make his move. And by move, I mean he was gonna rape Spider-Man in his sleep. Fortunately, Spider-Man is not a heavy sleeper, and will not take being raped so easily.
​
In this cover, Spider-Man remains resistant to Puma's advances. So Puma does the only thing that Native Americans with years of pent-up colonial hatred and dominance issues can do: he spanks Spider-Man in the face. What he doesn't realize is that he's not the only guy who wants Spider-Man THAT way.
Now let's take a break: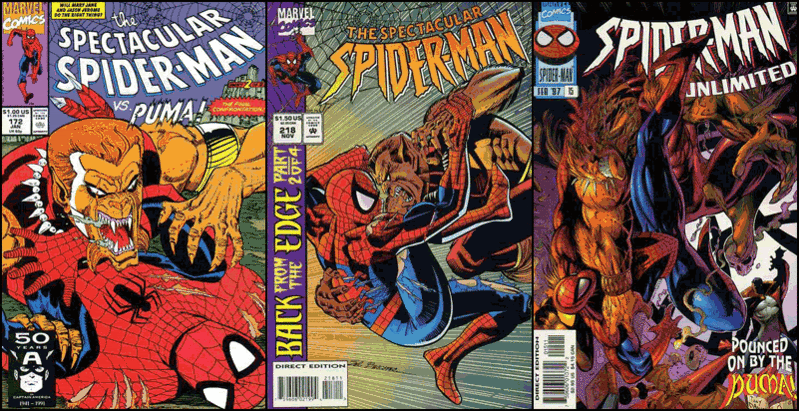 OMG IT's PUMA'S CRAZY TOUCHING SPIDER-MAN IN INTIMATE PLACES TIME!!!!!
​
*ahem* Let's continue.
​
Just when he and the wall-crawler decide to 'just be friends for now', other super-villains try to muscle in. They don't care much about Puma, since it means that their could be chances of a threesome. But Puma doesn't like to share, and in this scene, he is clearly annoyed with the Hobgoblin and his embarrassingly Carson Kressly screech of "LET'S PARTY!!!"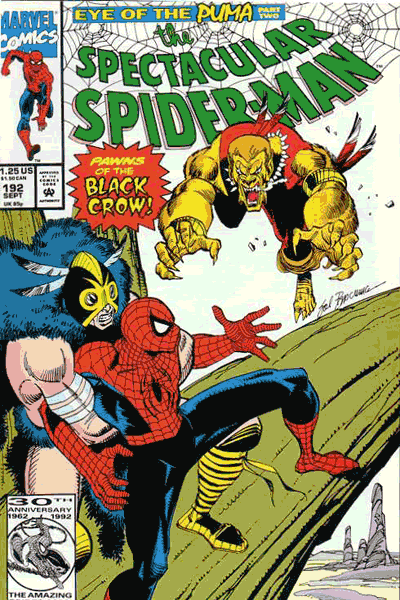 ​
Making matters worse, is the fact that Puma is a very very very possessive man. He just doesn't like to share. Eventually it gets so bad, that Spider-Man isn't even allowed to
see
other villains. Not even the Black Crow, who is the only supervillain in the Marvel Universe named 'Black something' but does not appear to be black... and therefore must also be a Native American.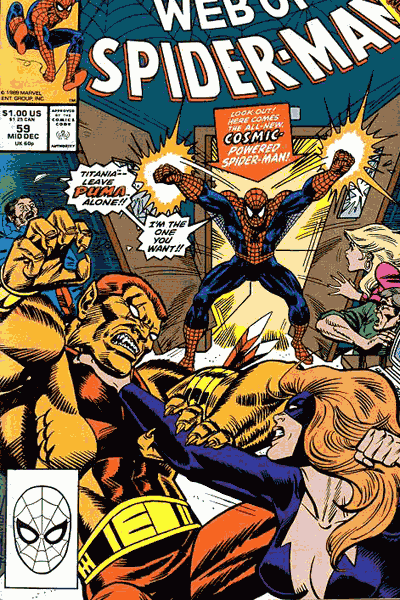 Sometimes, Puma will deliberately provoke arguments with other super-villains in a deliberate ploy to gain Spider-Man's attention. Here, we see him fighting Titania. I think Puma is slowly winning Spider-Man over. Just the notion that Puma has turned his attentions to happy-chested women with their hands around his throat has incensed Spider-Man so much, that he goes out and gets cosmic powers before crashing through the door.
And there you have it, a quick history of Puma and why he is a gay Native American who to be honest, should be proud to be a Native American and gay. There's only one tiny thing that Puma has forgotten to consider in all his attempts to woo Spider-Man...
Spider-Man is married.
​
*
I later used the money to buy the first issue of Prime, from Ultraverse Comics. It was like totally awesome and I still have two copies of it, because everyone in 1992 had two copies of every comic they thought was awesome**.
**
Which is pretty much every comic that came out in 1992.