Joined

Nov 23, 2022
Messages

75
it has been only the SR version of the Batman Begins.....I don't think the very realistic The Dark Knight and The Dark Knight Rises fit in the Superman Returns's universe. And Nolan says no and so Bale himself as well.
I don't know, the dark knight trilogy has never been realistic as such, Nolan himself describes his universe as a somewhat more ordinary world with extraordinary characters, basically gods among humans.
Batman, Joker, Bane, Ras al ghul are myths, exceptional people with superhuman abilities.
In the dark knight rises we see Bane effortlessly destroy a concrete pillar with his fists, also Batman escaping in time from the explosion of a nuclear bomb that if connected with superman returns would explain well why bruce survived the explosion ( superman would have saved him in time)
Bale never denied anything, when asked he said he wouldn't feel comfortable doing that (the crossover) behind Nolan's back.
I never used as an excuse or denied that they were both in the same universe, it was something I assumed as a fact but I didn't see putting them together in a movie soon.
Nolan only explained that for Batman Begins they did not have a large extended universe in mind, Bruce, as in the comics, would not be inspired by other superheroes to be Batman, he would follow his own path.
That was all he said.
Without confirming or denying anything.
I don't think there are any problems with including a Nolanverse variant within earth 96

True, I also found this:


Official products that promote both movies as if they were from the same universe, even the image below converges well with the silhouette of Superman.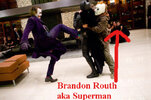 I came across this that reminds me of the Punisher cameo in spider-man 2
SPOILER ALERT: Warner Bros. and DC may be laying the groundwork for Batman and Superman to meet on the big screen. Dateline Hollywood has learned that Brandon Routh, who played the man of steel in "Superman Returns," has a cameo...