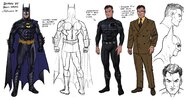 Gray hair. Maybe theres a time jump since the end of Batman Returns since he had full black hair in that film.
Perhaps Harvey Dent will already be Two-Face, and this picks up after Batman & Robin, introducing the second Robin. I guess Harvey Dent may have survived Batman Forever?
This is all assuming it doesn't contradict the Schumacher films. Those may end up as Pre-Crisis. All speculation for now, but I'm hyped!
Last edited: