As many of you know, Crisis on Infinite Earths featured Earth-96, the universe where Superman Returns took place. Leading up to the release of the episodes, we were told repeatedly that this is Reeve's Superman. There's a reference to Superman III, and Lacy Warfield from Superman IV was on the Daily Planet memorial.
On face value this makes sense. Superman Returns is a "sequel" to Superman II. However, the Superman Returns: Prequel comic elaborates on this connection further by providing flashbacks to the events of Superman: The Movie. In the comic, various changes are made. The dialogue is familiar but completely different to what was said in the original film. Lois Lane was still buried under the ground in the Superman Returns version of Superman: The Movie, and he was just able to save her in time without time travel. Further, Superman Returns is set in 2006. The Superman film series places itself in 1977-1985. Sure, prop dates can be excused, but come on. It is said that Krypton exploded in 1948 in Superman: The Movie, and Clark landed on Earth 3 years later, thus we have to make a convoluted theory of Clark lying just so that the ages of the characters aren't crazy. Superman III places Clark graduating in 1965, and also dates the present day events in 1980/1983. Superman IV places itself in 1985. The technology is of the 1970s and 1980s. In the Superman Returns prequel comic, they had modern TVs. In Superman Returns, the technology was modern.
Another thing, Superman Returns was only supposed to continue loosely from an version of Superman II, not counting Superman III-IV as part of continuity. Jason is even born from Clark and Lois having sex in Superman II. In Superman III mentions that Martha Kent is dead. In Superman IV: The Quest for Peace, Clark is selling the farm. In Superman Returns, Martha is alive.
What does Marc Guggenheim have to say about the contradictions?

HE COMPLETELY IGNORES THE SOLUTION AND BASICALLY SAYS THAT MARTHA FAKED HER DEATH? What? I obviously ignored this on my timeline because it's illogical.
More issues. In Superman Returns, it takes Clark 5 years to get to and from Krypton. According to Superman '78, Krypton is 21.7 light-years from Earth. In the Supergirl movie, Superman has embarked on a peacekeeping mission in a galaxy estimated to be serveral hundred trillions of light-years away. Firstly, this is stupid. The observable universe is only 93 billion light-years, so this is probably the greatest feat of any live-action Superman easily and it is offscreen. I mean, is he using worm holes or is he just that fast? Secondly, if it takes him 5 years to travel 43.4 light-years, then HOW DOES HE COME BACK FROM SERVERAL HUNDRED TRILLION LIGHT-YEARS IN THE NEXT FILM?
Finally, the very thing that brings it all together.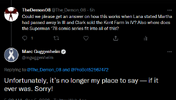 Marc Guggenheim admits he has absolutely no clue what is going on. This very comment can be used to discredit his assertion that Superman III-IV are canon, and the references are simply due to Earth-96 being the universe of Superman Returns where Clark experiences similar events to the Reeve films but they play out differently just like the first two films in the comic tie-in.
I will say that there are rumours that a CGI Christopher Reeve will appear in The Flash, so for the sake of argument lets say it is true. While this doesn't confirm anything, it shows that they're using Reeve to represent his version rather than Routh. It's a small thing, but it slightly helps my point.
My point, to conclude, is:
Earth-96 - Singerverse
2006 -
Superman Returns: Prequel #1-4
2006 - Superman Returns
2019 - Crisis on Infinite Earths
Earth-?? - Donner Cut
1977 - Superman: The Movie
1977 - Superman II: The Richard Donner Cut
Earth-789 - Donnerverse
[Comic Multiverse]
1977 - Superman: The Movie
1979 - Superman II
1980 - Superman III
1984 - Supergirl
1985 - Superman IV: The Quest for Peace
1989 -
Superman '78 #1-6
1989 - Batman
1992 - Batman Returns
1993 -
Batman '89 #1-6
1994 -
Dark Crisis: Big Bang #1
This just makes everything so much cleaner and fits with the original intention of Superman Returns being a reboot using the first two films as a springboard rather than a direct continuation of that continuity.
Last edited: