This thread is used to try and explain and hopefully reconcile inconsistencies in the DC Live-Action Multiverse canon.
Hell and Heaven are confirmed multiversal due to Lucifer giving John a card that takes him to Oliver Queen (who lived and died on Earth-1) in Purgatory. The Spectre, who is a human chosen to be God's vengeance, appears, and it is a different Jim Corrigan than the one from Earth-1 (noted by John Constantine) thus showing that God and Lucifer are beyond the multiverse. Additionally, we've been shown that the New Gods, such as Darkseid, are multiversal. In Smallville Season 11, Darkseid is shown to be a single entity in the entire multiverse. In Zack Snyder's Justice League, it is implied that Darkseid travels throughout the multiverse. It doesn't make sense for New Gods to be on a higher tier than the literal creator of the universe. As for the rest, they've confirmed everything we've seen and everything we will see are all part of a unified multiverse. This creates a few inconsistencies to be explained. Here are some theories to explain how everything could fit together.
To start with, John Constantine of Earth-1/Prime helped split Mazikeen into two halves, one for Hell (The Sandman) and one for the Earthly plane (Lucifer). Lucifer owed him for that in Crisis on Infinite Earths.
To explain the different versions of the Devil existing, there are two possibilities.
The Triumvirate Theory
This theory is more comic-accurate. It began when God created the being who would become known as the First of the Fallen. The First, after being banished to Hell, came across two demons who he believed to be fallen angels. They formed a Triumvirate to rule Hell, and were given the ruling titles of Satan (The First), Belial and Beelzebub respectively.
Eventually God created Samael, who later rebelled against him and was banished from Heaven and made to rule Hell. Samael forcefully took the throne of Hell from Satan and the Triumvirate and changed his name to Lucifer Morningstar. As the new leader of Hell, he ruled all aspects of it, and took on the titles of Satan, Belial and Beelzebub.
He also created avatars of himself in order to serve different functions in Hell. He created a more 'human' and rebellious version of himself (Tom Ellis), who rules the lowly demons in the Labyrinth, the Seventh Province. He also created another being that is more malicious and calculated (Gwendoline Christie), who rules the high-ranking demons in Pandemonia, the First Province.
Satan was given the name Lucifer Rofocale and was made into Hell's prime minister (Satan's last name in the Constantine novelization is most likely a reference to Lucifuge Rofocale, the prime minister of Hell as assigned by Lucifer). Satan went down to Earth-[Constantine Movie] to collect John's soul, the only soul he would collect himself.
When Lucifer decided to retire to Earth-666 in 2011, the Triumvirate of Hell returned to power. The titles of Beelzebub and Belial were restored to the original demons, who confronted John Constantine (Earth-1) alongside Satan in 2019. John appeared on Earth-666 later that year to fulfill on his earlier deal, and was given a card that allowed him and his allies to go to Purgatory, the Ninth Province of Hell.
In 2020, Lucifer returned to Hell and decided to try using therapy to help souls in Hell eventually go to Heaven. One year later, Morpheus came to Hell in order to get his helm back, and came across Lucifer's more malevolent self.
The Coin Theory
Lucifer's Pentecostal Coin shows that, like how the Father, the Son and the Holy Spirit are different persons that are all the same God, Beelzebub, the Serpent, the Dragon, Lucifer and Satan are different persons that are all the same Devil.

When Samael fell to the abyss that became Hell, he divided his power into multiple beings to serve different functions. One being more 'human' and rebellious (Tom Ellis), another being more malicious and calculated (Gwendoline Christie) and other entities that served to govern Hell's demon population. This includes Beelzebub, Belial and Satan.
Satan ("The First of the Fallen") would be another aspect of Samael in this case, unlike the comics where he was his own entity apart from Lucifer entirely.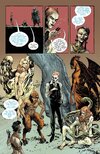 The Tom Ellis Lucifer seems to be less powerful. It almost seems like his power is perportional to whoever he is fighting at any given moment. This is possibly a subconscious decision so that he can experience a more human existence, since he is bound to Angelic self-actualization. At his true power, he is second only to God according to Morpheus.
His comic book counterpart was able to travel between multiverse iterations after the events of Flashpoint. This is likely why Lucifer was so calm when the Anti-Monitor was destroying the multiverse. He quite literally can exist in a void of nothing, and Heaven and Hell are beyond the Anti-Monitor's reach.
Hell looks different between different movies and TV series. This is because Hell is fluid and ever changing, as well as having nine different provinces.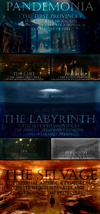 Pandemonia
: First Province, Dominion High Caste
The Odium
: Second Province, industrial/manufacturing
The Gull
: Third Province, mercantile/commerce
Praetori
: Fourth Province, administrative/governance
Internecia
: Fifth Province, military/enforcement
Ament
: Sixth Province, cultural/propaganda
Labyrinth
: Seventh Province, judicial/detainment
Err
: Eight Province, theological/suppression
Purgatory
: Ninth Province, secondary damnation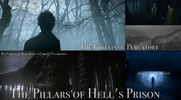 Gabriel, after betraying God, had her wings removed and was trapped as a mortal in the Constantine movie universe. She likely redeemed herself of her sins and grew her wings back as self-actualization.
Last edited: