Without him, all of you would be lost souls roamin
Joined

Feb 23, 2005
Messages

13,670
I hate the Internet. Here's why. (If you're the kind of person who hear's someone else tell them that they should not look at something lest they be scarred for life but do it anyway, you might want to click "back" right now. (I know you're not going to though.))
Last night, while looking around YouTube, I started checking out shock site reaction videos, to 2girls1cup, lemon party, tubgirl. Y'know, the usual. The funny thing I've noticed that I have to admit is that this kind of stuff...just doesn't shock me much. I have not watched 2girls1cup for various reasons, but most of the shock photos I've been subjected to have barely elicited a reaction in me. I'm not an easy person to shock and for some reason, that kind of stuff just seems funny/bizarre to me. What really freaks me out is anything having to do with violence, which I avoid like the plague. At that point I was reminded of a conversation I had with two members here in The Chat (I absolutely cannot remember who it was.) where we discussed the BME Pain Olympics. I'm sure those of you who know what that one is just collectively cringed. [member who I cannot remember right now] had already seen it but I and [other member who I cannot remember right now] hadn't. We talked about it and the one of us who had seen it explained that he thought it wasn't real.
Remembering this, I decided to googulize the video, with no intention of actually watching it, but just to find out if it's ever been confirmed to be real or fake. While searching, I almost immediately came across a screenshot...and my first reaction was that I could totally see exactly how they would've faked it. Then I read various people pointing out things that didn't make sense about the video: 1. You'd bleed to death if you did that. 2. It wouldn't be that easy to just kind of pop your...well, you know. They're connected to the body by a thick cord and wrapped in a multi-layered web of nerves and veins and stuff. They don't just float around like golf balls. And then the clincher: the original version of the video actually said at the end that it was all fake and that it had been meant as a parody. Most people just cut out the warning when they started floating it around the internet. What a relief. But I was curious as to what it was a parody
of
. Here is where I should have turned back.
According to Wikipedia, BME stands for Body Modification Ezine, a website dedicated mainly to fans of tattoos, piercings, and other more unique ways to piss your parents off. But those with special subscriptions to the site can access areas having to do with considerably more extreme forms of body modification, with accompanying videos and pictures. From what I've read, it seems like what is simulated in the Pain Olympics video is most likely an exaggeration and that while people do do quite extreme things to themselves, you wouldn't do something like that unless you were trying to kill yourself. If you wanted it done and wanted to live, it would have to be done surgically.
Anyways, BME is a pay subscription site, which was good because I meant that I couldn't be tempted to actually visit it. (Considering the way he's used the theme of extreme body modification in his work, I would bet my soul that Ellis has an account there. This should be enough warning. Look at freaky body mod fetish stuff AND YOU TURN INTO WARREN ELLIS.) However, I saw that link to the "BME Wiki" at the bottom of the Wikipedia article and ******* it, I had to click on it. I mean how bad could it be, right? It's not like there's going to be pictures or anything. Right?
My morbid curiosity led me to go to exactly the pages you would/wouldn't want to see and...dear god...there were pictures. I could handle it for a few pages, a lot of them weren't that extreme, but then I
had
to see what "Subincision" is. What it is...is a procedure that if I were to describe it to you, this post would probably be deleted. And of course, there were photos. But that wasn't even what got me. It was the section where they started explaining why someone would have it done, what "pleasurable" activities could be pursued once you've had such a thing done to you. I finally became to queasy to read on when it began describing how hardcore of a masochist you'd have to be to be able to endure the kind of pain you'd experience just by having any kind of sexual contact once you've been "subincised", and was unable to learn what "head splitting" is. (I could easily guess, but I choose not to.) I mean, I'm a damn hippie, love-everybody liberal and even I was horrified beyond belief. I consider myself pretty open-minded but I can't come up with a reason why human beings who would be willingly "subincised" deserve to exist on this plane of reality. In fact, I have a working theory that such people are, in fact, Cenobites: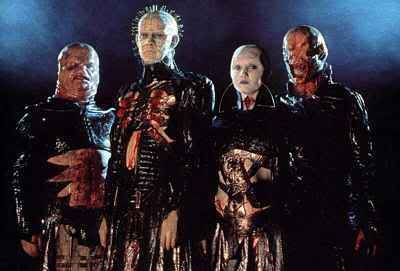 How do they function?? How far have they descended into sexual deviancy that they would do something like that just to get off better? What if you get together with a nice girl who's not into that kind of **** and she see that thing? Wouldn't she throw up all over you? And wouldn't you then post it online for others to pleasure themselves to? Who are these people?
WHO ARE THESE PEOPLE!?!?
Ahem.
And that's why I hate the internet.
Note that I didn't include any links, even to the Wikipedia article. You may foolishly look up "Subincision" on your own time to figure out what it is but I hope that you don't. I'm getting sick right now, just thinking of it.
Now. Why don't we cleanse the pallet with a good old fashioned video of thirty or forty people being subject to the Pain Olympics.
[youtube]xsZhsZFfzBI[/youtube]
Hehe.
Now excuse me, I have to play with kittens or hug a teddy bear or something until my soul feels clean again.