A thread where all of us can post about really awesome Japanese music.
Well okay, by "us" I mean mostly ME, but hey don't let that stop all of yous from throwing in your own pimpage of pure awesomeness from that pop cultural superpower of a dinky little country.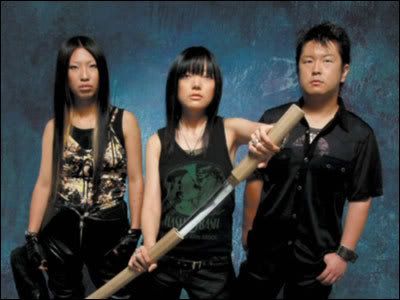 GO!GO!7188
​
Right now, the band I keep coming back to is GO!GO!7188, which is a very talented trio of rockers --- Yuu Nakashima on guitar, Akko Hamada on bass and "Turkey" Hosokawa on drums. They are a rock group that draws influences from surf rock, 60s psychedelia, punk and um... enka ballad music (which is basically 'country' music in Japan). Neither Hamada or Nakashima is particularly pretty, so unlike
Anna Tsuchiya
,
Olivia Lufkin
or
Shiina Ringo
, they can't exactly coast on being good-looking.
They started out in 2000, and eight years later they're still rocking awesome. At first glance, they look like another girl rock band, but once you've dug into their material further you'll notice they're musicians first and foremost. Yuu knows how to do some mean solo/bridge work, and Turkey's drumming is inventive and crazy fast.
Suponji Wiki puts it best:
Suponji Wiki said:

As old-school a rock trio as you're going to find in Japan nowadays ... their style is that of a classic rock outfit, and their focus lies in creating simple but intelligent songs without the aid of extensive production, samples or effects. Much of the group's work is composed solely for guitar, bass, drums and vocals, giving them a naturalistic sound.
Anyway, here be some videos:
"Aoi Kiretsu" from their 2004 album Ryuzetsuran.
[youtube]RL_lbLap2uM[/youtube]
"Kimi Dake ni Ai Wo" from their 2002 'covers' album Tora no Ana.
[youtube]RafuD7JP6LY[/youtube]
Also, GO!GO!7188's most awesome live track EVER:

http://www.stage6.com/LULU-Street/video/1637765/GO!GO!7188---Rock
Watch out for the really awesome guitar masturbation at 4:01.
Last edited: