Don't expect me to take you with me when I go to s
Does anyone read it?
I read the first three issues months ago - and thought they were crap. I had no idea what was going on, the story didn't seem to have a beginning, middle or end, and the only redeeming factor was the art.
I downloaded it again today, because I've been reading Seven Soldiers and the first arc features the Sheeda. It's written by Grant Morrison and drawn by Ed McGuinness. It's still really confusing, and will probably take a few rereads before I know exactly what's going on. I'll probably also have to read Morrison's JLA since it supposedly ties in.
The best thing about the arc besides the art? Gorilla Grodd. Morrison's Grodd is awesomely frightening. Gorilla Grodd should be used more often. Anyone recommend some good stories with him in it?
I skipped the next few issues and started on Ellis's arc... I'm not that far in, but I came across an awesome line and knew I had to make this thread just to share it. Lois Lane and Clark Kent are sitting at a desk, when Perry White barges into the room.
Perry White said:

Lane. Kent. I am your editor. Prepare to die.
These types of quotes are why I love Warren Ellis and why you should to.
Oh yeah, I have an image to share with you, from the Morrison/McGuiness arc. Batman kicking Gorilla Grodd in the face: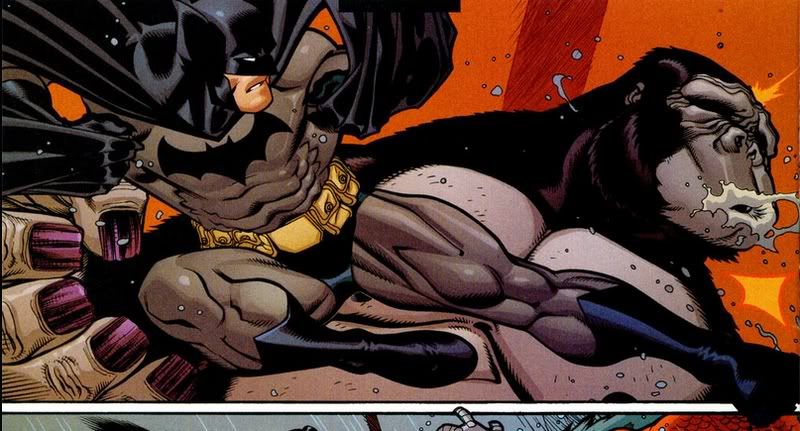 Awesome. This is the man who's doing your Ultimates 4 and possibly 5, 6, 7 and 8 if they ever get that far. He's not the right man for the job, but at least it'll be some good superhero fun... heck, they should just let McGuiness do Ultimates 3 - at least that way it will eventually come out.