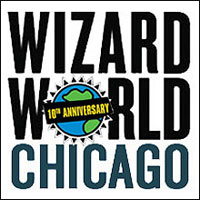 The Wizard World tour hits its third spot at Chi-Town, where many of the UC-ers are currently hitting up the convention. Sit tight, relax, and enjoy (or get annoyed) by the news presented here!
Newsarama:
Marvel: Again with the 2009 teaser
Luke Ross: On Captain America & Exclusive
Simon Spurrier & Javier Saltares tackle Danny Ketch
Mondo Marvel Panel
Gates & Igle join DC's Supergirl
The Ultimate Panel: Countdown to the End?
The Vertigo, er, Brian Azzarello Panel
The DC Nation Panel- Darkest Night, Supergirl, & more.
An evening with Warren Ellis
Dredd at Dynamite
Jason Aaron: Handicapping the Ghost Rider
Remembering Michael Turner in Chicago
Dynatime to Reboot; publish The Phantom
The Dynamite Entertainment Panel
DCU: Crisis Panel
Remender and The Corps at Devil's Due
B. Clay Moore on Top Cow's Iron Maiden
Secret Invasion Panel and...Secret Warriors?
Catching up at the Wildstorm Panel
Cup O' Bendis- Warriors, Spider-Woman, and more
The Wonder Woman Panel
Looking at the WHAT IFs
Devil's Due to publish Vampire Hunter D
Hickman on Secret Warriors
Avenging Art: Tan, Banning & Brevoort talk
Top Cow's movies: Wanted Sequel? Witchblade director?
Talking comics with Top Cow
Avatar to come- Crosses, Zombies, and Gage?
WWC '08 Complete coverage
Comic Book Resources:
Mike Perkins talks "The Stand"
Mondo Marvel Panel
Ultimately....Marvel connects the dots
DC Nation
WWC: LIVE!
Vertigo: Edgy & Evocative
Daredevil Introspective with Bendis & Maleev
The Robert Kirkman Q&A
Johns vs Bendis
Jason Aaron talks Wolverine: Manifest Destiny
Blaze vs Ketch: Aaron on "Ghost Rider"
Yost on "Storm Worlds-Apart"
An evening with Warren Ellis
Tan, Banning, & Bendis on New Avengers
Dynamite nabs "Judge Dredd"
DCU: Crisis is here!
Larsen steps down as Image publisher, Stephenson steps up
Marvel's Secret Invasion Panel
Remembering Michael Turner: Joe Quesada
Devil's Due & Remender unleash "The Corps!"
Right Cross- Chriscross talks "Velocity"
Cup O' Bendis
Oeming talks "The Darkness"
Bendis talks "Spider-Woman"
Dynamite acquires "The Phantom" comic book license
Artists Honor Michael Turner
New Image publisher Stephenson speaks
Spawn to the future
DNA sing exclusive with Marvel
Spurrier on "Danny Ketch: Ghost Rider
Bendis on Ultimate Spider-Man
Bendis & Hickman on "Secret Warriors"
Vlad company- harms talks "Impaler"
Tony Daniel spotlight
Wonder Woman Spotlight
The Dynamite Comics panel
What If? Marvel announces more What Ifs?
Batman: Gotham Knight World premiere
LucasFilms' Star Wars panel
Wildstorm: World's End
The Image founders panel
CBR's WWC 08 complete news index
Last edited: