Joined

Feb 16, 2005
Messages

13,105
Location
In 1993, Malibu Comics --- now a disassembled subsidiary of Marvel --- launched a line of comics set in a distinctly contemporary 90s version of superhuman America.

One where Bill Clinton was a 'humble' senator from Arkansas trying to discover the meaning of his Presidency while staving off the political difficulties of a world beset by the extraordinary.

One in which winning smiles and fabulous bods were soon supplanted by ultrahuman ability in the battle for hypercelebrity, super-stardom and mega-scandal.

One in which shadowy corporations and unscrupulous researchers were testing the limits of conspiracy and wetware. This is:​
THE ULTRAVERSE
(Earth-93060)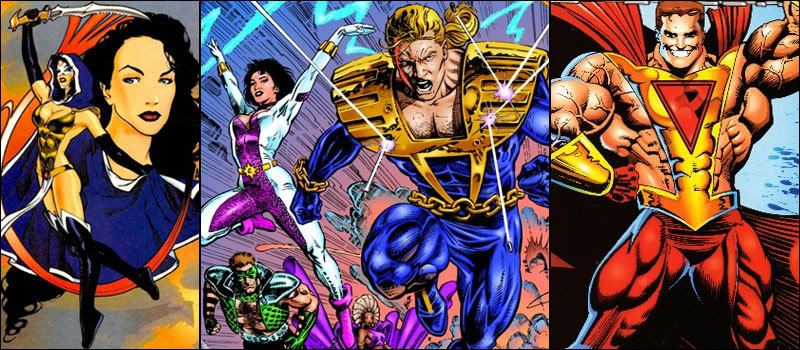 From left to right: Mantra, Choice & Hardcase with Grenade & Yrial, Prime in his First Prime form.
​
A brief retrospective of The Ultraverse
Sequart's Ryan McLelland remembers the Ultraverse
More resources and links to follow. I'm kind of on my way out, so I'll fix this later. Also, I can send scans of ANY Ultraverse comic, if anyone needs any. I'd link to the torrent file, but a) that's not permitted here, and b) Even if it were, I have to leave now.
You must cast, whether you damn like it or not:
HARDCASE
- Tom Hawke, a struggling actor who suddenly receives a Jumpstart effect that gives him an ultra-strong hardbody that works not just on the screen, but on the streets as well! For a brief time in the late 80s, he becomes part of a vigilante trio known as The Squad, but when his team-mates are killed, he retires from heroism. Now he sticks to playing a hero on screen, while dating Choice, the fabulous supermodel and commercial representative of Choice Corporation.
PRIME**
- Kevin Green, a 13-year old nobody kid can explode into a pile of slime that transforms him into the strongest ultrahuman alive. How can he impress his high-school crush with his fabulous new bod, without coming across like a pedo stalker? Now, this Modern age Captain Marvel turns his attention to drug dealers, pimps and child molesters all while confronting the darkness of an adult world he may not be prepared for!!
( A promotional comic short, explaining Prime, you can also read much of Prime here, albeit in black and white )

MANTRA
- The sexiest sorceress on the ultrahuman scene is not a SHE... but a HE! Lukasz spent 1500 years being reincarnated into the bodies of different men in a war against the evil wizard Boneyard, until he died for the last time. Now, his patron Archimage says the war is lost and has played his last card to reincarnate Lukasz... as a WOMAN! Now he must abandon his swords and shields and learn to master sorcery and spellcraft... and learn to be Eden Blake, a divorced mother of two in quiet little Canoga Park!
( A very comprehensive Mantra fan site, featuring well written info about her and the Ultraverse )
PROTOTYPE
- What if Iron Man was 19 years old, and working for the man? When Jimmy Ruiz won his most challenging gaming championship, little did he know that he'd get his biggest prize ever... in the form of a nigh-invincible suit of cybernetically enhanced power armor! Now he's struck a deal with UltraTech Corporation to be their field test operative AND their corporate spokesmodel. But what fun is a super-suit if you've got execs watching not just the bottom line, but your every move?
FIREARM
- Alec Swan was a British operative with
The Lodge
working to take down rogue ultrahumans when he discovered that
Aladdin
, the American agency, was working to control the ultrahuman phenomenon. After one last mission, he retired to become a private investigator in Pasadena. But no matter where he goes and what case he takes: the extraordinary is under every stone, the fantastic always follows, and there's an ultra around every corner.
PLUG
- Michael Rafani grew up under the difficult pressures of parents who believed that a child must earn their love before they are to deserve it. To seek solace, he turned online to seek approval from BBSs, newsgroups and IRC. But when he discovered that as a technopath he could communicate LITERALLY through electronics, he gathered together a misfit band of other ultrahuman rejects known as
The Freex
.
RAFFERTY:
He was the perfect soldier... until the day he decided to kill all Ultras. Employed by The Sportsmen, an ultra-human secret society whose members use their powers to establish themselves as the ruling elite class, Rafferty is on a mission to hunt down all ultra-humans. He does it with the utmost of skill. He does it without guns. He does it for the thrill. But more important to the Sportsmen, he makes sure that the ultra-human phenomenon remains special.
**
I wrote pretty much 88% of the entire wiki entry for this character.
Last edited: