Joined

Mar 7, 2006
Messages

690
Location
Because knowing is half the battle...
1) The winner of the last round becomes the moderator of the round, and thus gets to choose the property or story in question to be adapted. Winner may also declare whether this property is an animated film, or a live-action one. He must also name the core characters to be cast, which should be at least 4, but no more than 9.
2) Participants may not use actors who have played the role before in the same medium before. Voice talents may not reprise their role, nor can film/TV ones.
3) After the time period set by the moderator, the round is declared closed. People will vote via PM and send it to the moderator, who will count the votes and declare winner. Like the Ultimatization Game, you CANNOT vote for yourself.
4) The winner declared gets to choose the property in the next round.
This round's property is:
GI JOE: A REAL AMERICAN HERO
I have chosen 8 characters each from Cobra and GI Joe which will give a general idea of the main roles. You MUST cast the first 4 characters from each, plus Storm Shadow from COBRA. The others are all optional.
Here are the 8 main good guys, the Joe team: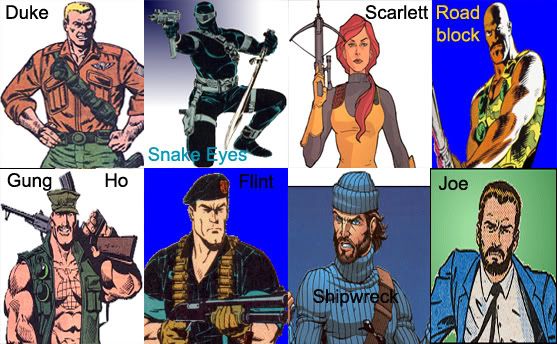 Duke
First Sergeant Conrad S. Hauser, Army Airborne. Joe's #1 leader in the field.
Snake Eyes
Master Sergeant [Classified], Infantry and Hand-to-hand combat expert, ninja and commando.
Scarlett
Master Sergeant Shana Mae O'Hara, Intelligence/Covert Ops.
Roadblock
Sergeant First Class Marvin F. Hinton, Heavy Weapons and Chef.
Gung-Ho
Sergeant Major Ettiene R. LaFitte, USMC. Recon and Jungle Warfare specialist.
Flint
Chief Warrant Officer Dashiel R. Fairborn, Airborne Ranger. Infantry and Helicopter Pilot.
Shiprwreck
Senior Chief Petty Officer Hector X. Delgado, Navy S.E.A.L. Gunner's Mate and Machinist.
"GI Joe" Colton
Brigadier General. The original "G.I. Joe" (with Kung-Fu Grip!)
As for their nemeses, the 8 bad guys from COBRA I've chosen are:
Cobra Commander
Name and Rank Unknown/Classified. Global Terrorist leader/fundraiser/organizer.
Destro
James McCullen Destro XXIV. Weapons manufacturer and terrorist.
Baroness
Anastasia DeCobray (possible alias). Intelligence and Fixed wing pilot.
Major Bludd
Sebastian Bludd. Weapons master and terrorist.
Storm Shadow
Thomas S. Arashikage. Covert Ops/Hand-to-hand combat expert/ninja.
Zartan
Name unknown. Master of disguise and espionage, leader of the Dreadnoks.
Firefly
Name unknown/classified. Sabotage, demolitions, terror, martial arts.
Dr. Mindbender
Name Unknown. Genetic engineer, orthodontist by trade.
There are also plenty of supporting roles you can pick and choose from, if you're familiar enough with the history of GI Joe and it's properties and willing/able to put any extra time into this round. Expand on Zartan's gang of Dreadnoks. Introduce Tomax and Xamot. Have a martial arts free-for-all with Jinx, Quick Kick, Kamakura and the whole damn Arashikage clan in the mix. Feel free to make this into an epic of Ben Hur proportions!
It's not a requirement and there are no bonus points, but I would really like to see what the premise of everyone's Joe story would be. Old-school Joe action fit for audiences of all ages and political leanings, or closer to the Devil's Due comic series, with more of a real-world feel? Or... something completely different... maybe Joes in Space? (I hope not).
Since you are going to need them, here are some extra resources. Please... USE THEM!
http://www.joeheadquarters.com/charlist_joes1.shtml
http://www.myuselessknowledge.com/joe/carchive.html
http://joes.propadeutic.com/
http://www.yojoe.com/faq/
Do your research, pick your actors and actresses, and above all... HAVE FUN!
This round will close in two weeks: Monday, October 22. Voting will end the following day. Winner will be announced Wednesday, October 24. Good luck!
Last edited: